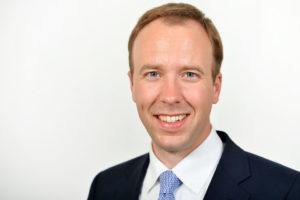 Rapid tests for Covid-19 will be offered to places of work employing more than 50 people.
The lateral flow tests can give a result within 30 minutes.
The scheme is already available to places with 250 staff or more but has been extended.
Health Secretary Matt Hancock said:
"Employers should regularly test their staff, and this drive across government to raise awareness and encourage more businesses to introduce rapid testing for employees is incredibly important.
"When you consider that around one in three people have the virus without symptoms and could potentially infect people without even knowing it, it becomes clear why focusing testing on those without symptoms is so essential.
"We are already working with many employers to scale up workforce testing, spanning the food industry, retail sector, transport network, and across the public sector too.
"I strongly urge businesses and employees across the country to take up this offer of rapid testing to help stop this virus spreading further."
More than 110 businesses have signed up with employees at 500 sites.
But unions warned that rapid tests were "not the magic bullet".
Dan Shears, GMB union's health, safety, and environment director, said:
"Everyone wants to ensure that infectious workers keep away from the workplace, but this means getting the introduction of testing right – with confirmatory testing to avoid false negatives and crucially ensuring that all protective measures to reduce transmission are implemented to the maximum."