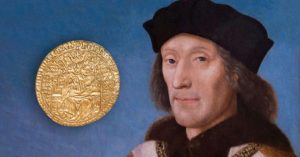 Picture: Royal Mint
A Tudor coin more than 500 years old is to be auctioned by the Royal Mint.
Bids for the Henry VII gold sovereign open at £950,000.
The coin is incredibly rare – only two are in private hands.
The sovereign was minted to "assert" – through its weight and size – the authority of England's first Tudor king.
Rebecca Morgan, of the Royal Mint, said:
"We are delighted to have acquired such a rare coin, which traces its history to the first Tudor king.
"The survival rate of these gold coins is minuscule, and this particular coin is the earliest example of a gold sovereign that a collector can own.
"Our experts have checked and validated the coin, and there are just two left in private ownership – making this an incredibly exciting addition to a collection.
"The Royal Mint was originally based at the Tower of London, and this coin would have been hand struck on 'Mint Street' – which still stands today.
"What makes this coin even more fascinating is that we can trace its ownership back to the 1800s."
The online auction is on March 4th.
Bidders must pay a refundable £20,000 deposit.