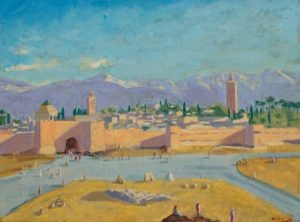 Hollywood stars Angelina Jolie and former husband Brad Pitt are selling a landscape painting by WWII Prime Minister Winston Churchill.
The picture – Tower of the Koutoubia Mosque – was painted in 1943 after Churchill's meeting with American President Franklin D Roosevelt.
The work – one of 500 painted by the British leader – was bought by Jolie and Pitt for their £18 million collection.
It is an oil on canvas and is the only painting done by Churchill during the war.
After agreeing in Casablanca to push for Germany's unconditional surrender, Churchill invited Roosevelt to see a sunset in Marrakesh.
He then captured the scene in the painting.
It is expected to fetch £2.5 million at a Christie's auction in London next month.
It would be a sale record for Churchill's work.
Nick Orchard, of Christie's, said:
"It is the only work Churchill painted during the war, perhaps encouraged by the recent progress made by the Allies in what he considered to be one of the most beautiful countries he had encountered.
"Tower of the Koutoubia Mosque is therefore arguably the best painting by Winston Churchill, due to the significance of the subject matter to him and the fact that it highlights the importance of the friendship between the two leaders."