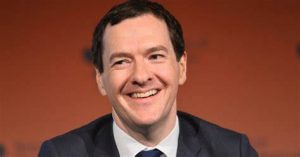 Former Chancellor George Osborne has left his job as editor-in-chief of the London Evening Standard.
He has also stood down as a fund manager with US based BlackRock.
He picked up a £650,000 yearly salary for one day a week working for the American company.
Mr Osborne, 49, has taken up a new position as a banker with the investment firm Robey Warshaw, founded in 2013.
The "boutique" bank includes Vodafone, BP and Centrica among its clients.
It has 13 staff and has made profits of more than £200 million since opening
Mr Osborne told the FT:
"Robey Warshaw is the best of the best, advising great businesses on how to grow, and I'm proud to be joining this first-rate team."
A bank statement said:
"We believe that George will significantly enhance the advice we give to clients.
"He brings differentiated experience and expertise to our team from his leading roles in global finance over the past decade."