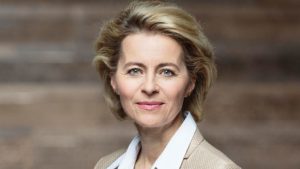 Beleaguered EU Commission President Ursula von der Leyen has blamed a deputy for a string of mistakes over vaccines.
The mess-up over export controls led to a "humiliating" U-turn by the EU.
Brussels announced last week it would impose Irish border controls to stop the export of the Covid-19 vaccine from Ireland to Britain.
Within hours of political outrage from the UK and Ireland the proposal was scrapped.
However, it left the EU's reputation severely damaged and Ms von der Leyen being ridiculed.
She is now under pressure to quit.
A spokesperson the president has now said it was not Ms von der Leyen, but commission vice president Valdis Dombrovskis who was in fact responsible for the farrago.
The spokesman added:
"What I can tell you is that there is one cabinet which was lead on this, that is executive vice president Valdis Dombrovskis because he is in charge of trade.
"This regulation falls under the responsibility of Mr Dombrovskis and his cabinet and of course the services of the commission which respond to him.
"Only the pope is infallible.
"Mistakes can happen along the way, the important thing is that you recognise them early on, in this case so early that it was before the decision was finalised, and that you correct it."