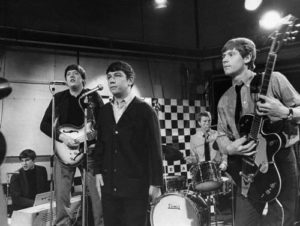 Hilton Valentine (right)
Guitarist Hilton Valentine – who gave The Animals an unforgettable intro on "The House of the Rising Sun" – has died.
He was aged 77.
Hilton's interpretation of the traditional folk song was a key part of British pop invading America in the 60s.
"Rising Sun" not only topped the charts in Britain but also the States.
Hilton, from the North East, was influenced by the skiffle group craze in Britain in the early 50s.
His mum bought him a guitar and he learned to play by rote from the book Teach Yourself a Thousand Chords.
He formed his own band – The Heppers – when aged just 16.
The Heppers morphed into The Wildcats before Hilton was spotted playing by Chas Chandler.
Chandler was forming a new group – The Animals – and asked Hilton to be lead guitarist.
Chandler had a knack for recognising raw talent.
He brought an unknown Jimi Hendrix to England in the mid-60s after watching him play in America.
Hilton's death was confirmed by record label Abkco.
A statement added:
"Hilton was a founding member and original guitarist of The Animals.
"He was a pioneering guitar player influencing the sound of rock and roll for decades to come."
He was inducted into the Rock and Roll Hall of Fame in 1994.
Hilton lived in Connecticut, where he is believed to have died.
His cause of death is yet to be confirmed.