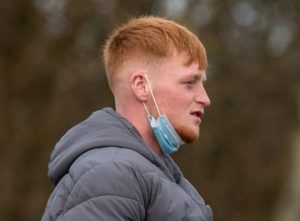 Callum Woodhouse
A binman has been sacked for kicking the head off a toddler's 6t tall snowman.
Council worker Callum Woodhouse was caught on CCTV taking a running jump at the snowman.
Three-year-old Joseph Taylor had built the snowman with his sister Amelia, six, and their friends.
Joseph, from Tupsley, Hereford, was later watching the bin lorry doing its rounds.
His mum Sophie said:
"Joseph always likes to watch the binmen out of the window and waves at them.
"On Tuesday he came running to me in tears sobbing 'the binman has broken my snowman' and he started doing a kicking motion.
"I didn't really understand what he meant but when we watched the CCTV back, I was really shocked.
"What kind of person does that to a snowman? It was obviously made by children, but he just started kicking it in the head.
"To do that in front of Joseph makes it just so heartless."
Nineteen-year-old Callum – whose girlfriend is pregnant – told The Mirror:
"I don't think I have to say I'm sorry.
"His family knew it was not going to be there forever.
"The snowman was obstructing my path.
"I decided to kick it because I didn't think it was going to hurt anyone's feelings.
"I don't think that snowmen have feelings.
"It was going to melt and snow again.
"I didn't think it would make such an impact on a three-year-old kid.
"The outcome is I've lost my job.
"I didn't think it was legal to sack me for kicking a snowman.
"When I said to my boss 'I've got a family I need this job' he said 'I don't give a s**t'.
"I'm willing to build the parents a new snowman for their son.
"They have been more cold-hearted to me than I have to them."
Herefordshire Council said:"We are disappointed that an individual representing the council would behave in such a manner.
"The employee was a member of agency staff working on behalf of one of the council's contractors, and he has been informed that he will not be used again."