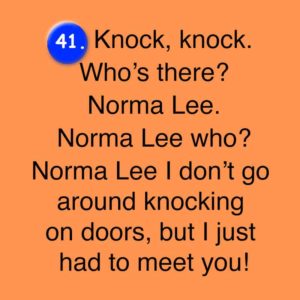 Knock-knock. Who's there? Hugh. Hugh who? Hugh knew the knock-knock joke has had its day.
The silly play on words has been around for hundreds of years – possible dreamed up by William Shakespeare himself.
But a survey of 2,000 people has found that one in five Britons aged under 30 are clueless about the jokes.
A further 75 per cent of all ages called the gag "old fashioned".
And more than half agreed the joke is often so bad it's funny.
The study was carried out by data team Perspectus Global.
David Arnold, from Perspectus, said:
"The classic knock-knock joke is part of our national heritage.
"However funny or unfunny they may be, they still have the ability to put a much-needed smile on our faces.
"It would be sad if they were consigned to the joke book of history."
Language experts believe Shakespeare played a role in perpetuating the knock-knock joke.
It appears in Macbeth in a scene involving the clownish porter manning the gate to the King's castle.