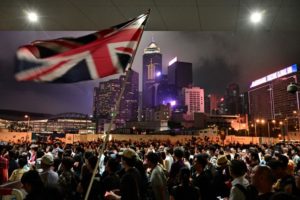 Library picture
More than 300,000 people could leave Hong Kong for Britain using a new visa system.
Prime Minister Boris Johnson said the decision honoured the "profound ties of history and friendship" between the UK and its former colony.
Hongkongers with British National (Overseas) (BN(O) status and their dependents can apply for the visas.
Anyone who comes can apply for settlement after five years – followed by British citizenship a year later.
Nearly three million BN(O) holders – and two and half million dependents – are eligible to come to Britain.
However, the British Government expects a much lower take-up on the offer.
Mr Johnson said:
"I am immensely proud that we have brought in this new route for Hong Kong BN(O)s to live, work and make their home in our country.
"In doing so we have honoured our profound ties of history and friendship with the people of Hong Kong, and we have stood up for freedom and autonomy – values both the UK and Hong Kong hold dear."
The visa fee to stay for five years is £250 per person.
Arrivals will also have to pay the immigration health surcharge of up to £624 a year.
The BN(O) status was created before the UK handed responsibility for Hong Kong back to China in 1997.
Foreign Secretary Dominic Raab said:
"We have been clear we won't look the other way when it comes to Hong Kong.
"We will live up to our historic responsibility to its people.
"China's imposition of the national security law in Hong Kong constitutes a clear and serious breach of the Sino-British Joint Declaration contrary to international law."