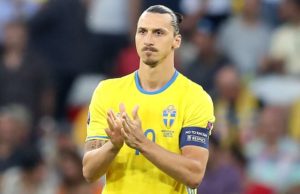 Footballer Zlatan Ibrahimovic has said there is no place for racism in "Zlatan's world".
The AC Milan striker was defending himself after an on-field clash with Inter Milan's Romelu Lukaku.
The forwards – who both played together at Manchester United – argued at the end of the first half of a Coppa Italia quarter-final.
As they left the pitch they had to be restrained by teammates .
However, a BBC pitch-side microphone picked up the squabble.
It's reported Ibrahimovic said to Lukaku "go do your voodoo" – a reference to the Belgian allegedly turning down a previous contract on the advice of a "voodoo message."
Ibrahimovic said on Twitter:
"In Zlatan's world there is no place for racism.
"We are all the same race – we are all equal.
"We're all players some better than others."
AC Milan went on the lose the game 2-1.
Ibrahimovic was sent after receiving a second yellow card.
The Italian football league is investigating the remarks.