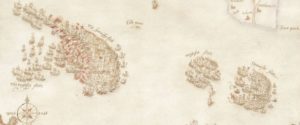 Spanish Armada Map
An "incredibly rare" set of ten maps plotting the defeat of the Spanish Armada has been saved for the nation.
The maps were destined for America unless £600,000 could be raised to keep them in Britain.
Culture Minister Caroline Dinenage imposed a three-month export ban to give time to find the money.
They have now been bought by the National Museum of the Royal Navy.
More than 400 donors, plus grants from the National Heritage Memorial Fund and the Art Fund, secured the purchase.
The Armada Maps – drawn a year after the 1588 battle – will go on display around the country.
Ms Dinenage said:
"The export bar system exists so we can keep nationally important works in the country, and I am delighted that, thanks to the tireless work of the National Museum of the Royal Navy, the Armada Maps will now go on display to educate and inspire future generations."
Professor Dominic Tweddle, Director General of the National Museum of the Royal Navy said he was "incredibly proud that we have made sure that the Armada Maps have been saved for generations to come".
The "undefeatable" Spanish Armada of 130 ships set sail to overthrow Queen Elizabeth I and put an end to Protestantism in England.
The British navy outmanoeuvred the Armada and won a battle that change the course of history.
Many Spanish ships were sunk in battle or caught up in a storm soon afterwards.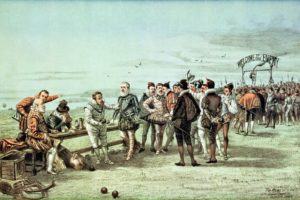 The British were led by Sir Francis Drake – the first man to circumnavigate the globe.
When the Armada was spotted approaching Plymouth Hoe, he was playing bowls.
Legend has it that he said he would have time to finish the game, "and still thrash the Spanish".