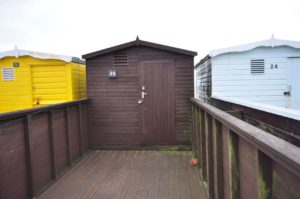 Picture: Rouse Estate Agents
A wooden beach hut the size of a garden shed has been sold for more than £65,000.
The 120 square foot dark brown chalet has just the one room.
There is a veranda at the front leading to the beach at Frinton-on-Sea in Essex.
The property was listed only days ago but already has a SSTC – sold subject to contract – notice.
A spokesman at Rouse Estate agents said:
"The owner wanted us to put it up for sale for £65,000, just to see what would happen, so we did.
"Already we've had two people call to book viewings – and one of them has even said they want to put an offer in.
"It has amazed us in recent years how much the prices for beach huts have gone up.
"But I think, especially now, with people staying at home and not being able to travel abroad for holidays, that is driving popularity up."