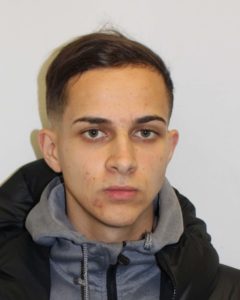 Picture: Metropolitan Police
A teenager motorcyclist who fled the police at 180 mph on his bike did a runner in court.
As Judge Andrew Holmes was sentencing Marian Dragoi to 46 weeks jail the defendant leapt from the dock and vaulted a chest high barrier.
He hared off through the court building and fled down four flights of stairs.
He was chased by security men.
However, he was stopped in the hallway by two police officers.
The Metropolitan Police has confirmed it will deal with the escape from custody.
Dragoi was at Wood Green Crown Court for sentencing.
At a previous hearing he'd pleaded guilty to various motoring offences.
Video: Metropolitan Police
Dragoi was chased for half an hour by police cars and a helicopter.
Wearing just shorts and a T-shirt, the 19-year-old tore off on his bike after jumping red lights in North London.
His bike – carrying false number plates – was doing 70 mph in 20 mph zones as he headed towards the nearby M1.
Dragoi was soon hitting 180 mph on the motorway.
However, he was being watched all the time by a spy-in-the-sky police helicopter.
The rider finally ran out of petrol and steered his powerful bike the wrong way up a slip road to refuel.
He was arrested at the station's pumps.
Dragoi, from Wood Green, pleaded guilty to dangerous driving, failing to stop for police, driving a motor vehicle without a licence and driving without insurance at Highbury Corner Magistrates' Court.
Arresting officer Sergeant Tony McGovern said:
"At one point of the pursuit, Dragoi went straight through every single red light he was confronted with, rode on the wrong side of the road in his attempts to get away and even mounted pavements.
"Throughout the pursuit, he continued to ride in a dangerous manner, and he only had the National Police Air Service helicopter tracking him – without any police vehicles on the ground anywhere near him."