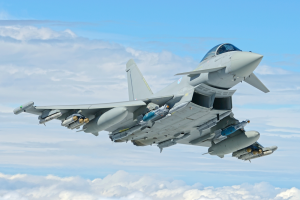 Library picture
A sonic boom was heard over London and Cambridge as RAF fighter planes were scrambled to intercept a private jet.
The jet had set off from Germany before losing contact with air traffic controllers.
It was guided into Stanstead Airport by two Typhoon fighters sent from RAF Coningsby in Lincolnshire.
As they flew south many people heard the sonic boom as they went through the sound barrier.
Alistair Broomhead posted to Twitter:
"Just heard a loud boom in E12, windows rattled, sounded like an explosion, anyone else in London hear anything? Know what's going on?"
And Javelin Sam, from Essex, tweeted a doorbell webcam video showing how loud the sonic boom was.
John Walsh posted: "Sonic boom just now over Cambridge!
"Blew my window off its casement stay and scared the bloomin' life out of me and the several pigeons outside!"
An RAF spokesperson said:
"The RAF can confirm Quick Reaction Alert Typhoon aircraft were launched this afternoon from RAF Coningsby to intercept a civilian aircraft that had lost communications; subsequently, communications were re-established, the aircraft was intercepted and safely escorted to Stansted.
"The Typhoon aircraft were authorised to transit at supersonic speed for operational reasons."
Caught the sonic boom on my ring camera!#sonicboom pic.twitter.com/Z8IoF5A7ki

— Javelin Sam (@javelinsam) January 12, 2021