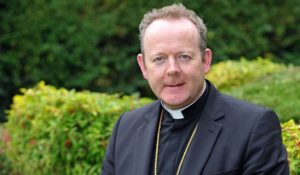 The head of the Catholic Church in Ireland has apologised to survivors of controversial mother and baby homes.
Archbishop of Armagh Eamon Martin recognised the church was part of a culture where vulnerable people were often "stigmatised, judged and rejected".
He said: "For that, and for the long-lasting hurt and emotional distress that has resulted, I unreservedly apologise to the survivors and to all those who are personally impacted by the realities it uncovers."
The acknowledgement came after a report revealed the homes had an atmosphere is being "harsh, cold and uncaring".
He added: "The commission's report helps to further open to the light what was for many years a hidden part of our shared history and it exposes the culture of isolation, secrecy and social ostracising which faced 'unmarried mothers' and their children in this country.
"We must identify, accept and respond to the broader issues which the report raises about our past, present and future.
"Above all we must continue to find ways of reaching out to those whose personal testimonies are central to this report.
"They have shown determination in bringing to light this dark chapter in the life of church and society."