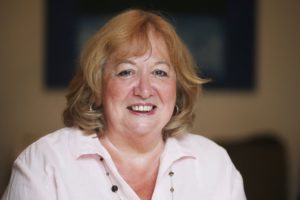 Britain's largest union has chosen a woman to be its General Secretary.
It's the first time a woman has been elected to the top job within Unison.
Christina McAnea will replace Dave Prentis who has held the position for the last 20 years.
Ms McAnea led the union's response to the Covid-19 pandemic.
She has also played lead roles in the union's work across collective bargaining, negotiations, and equalities strategy, including health and safety, pensions and procurement.
Ms McAnea said: "I'm so grateful to everyone who voted for me and for the trust placed in me.
"I become general secretary at the most challenging time in recent history – both for our country and our public services.
"Health, care, council, police, energy, school, college and university staff have worked throughout the pandemic, and it's their skill and dedication that will see us out the other side.
"Their union will continue to speak up for them and do all it can to protect them in the difficult months ahead.
"Despite the risks, the immense pressures and their sheer exhaustion, the dedication and commitment of our key workers knows no end.
"I will not let this government, nor any future one, forget that.
Unison is one of the Labour Party's biggest backers.
Ms McAnea will have a key role to play within the group.
Labour leader Sir Kier Starmer tweeted:
"Congratulations @cmcane on being elected as @unisontheunion's General Secretary.
"I know you will be a brilliant representative for Unison members.
"And it's a significant moment for the union to elect its first woman General Secretary.
"I look forward to working with you."
Outgoing general secretary Dave Prentis said:
"I am so proud that our union of over a million women now has its very first woman leader.
"Christina will be a fantastic general secretary, as she presides over a growing union.
"I know she will continue to stand up for public service workers everywhere, holding employers and the government to account in pursuit of the strong, well-funded services the UK's communities both need and deserve."