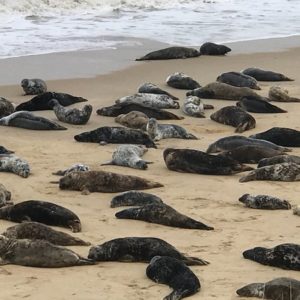 Seals at Horsey beach, Norfolk
A couple have been fined for driving more than 120 miles to look at seals.
The man and woman – in their mid-50s – drove from their home in Northamptonshire to Horsey beach in Norfolk.
Police officers spotted their vehicle in a car park – noticing the registration address was outside the county.
The couple admitted driving to seal watch and were issued with a fixed penalty notice.
Assistant Chief Constable Julie Wvendth, said:
"The 'stay at home' rule is clear; you should only leave your home for a reasonable excuse such as food shopping, caring for someone who is vulnerable and for one form of exercise a day.
"If you do need to leave home for any of these reasons, you should stay local.
"The government have outlined that staying local means staying in the village, town or part of the city where you live.
"It's our responsibility to adhere to this no matter how tempting it is to travel for a change of scene."
"Officers will use their discretion, as they routinely do in the course of their duties when dealing with people who have travelled away from their home.
"We will be proportionate in our approach but if we find people are blatantly breaking the rules, we will issue fines.
"We are almost a year into this pandemic; people know the rules and the risks associated with breaking them, so people do not have any excuse for not knowing what is expected."