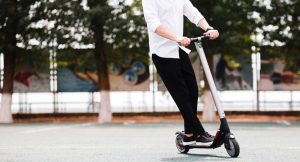 Electric scooter riders risk points on their licence and the vehicle confiscated if they use public roads.
Scooters rented through local council schemes can be used – but privately owned machines cannot.
Now police in Nottinghamshire have set up Operation Scribbler to clamp down on illegal use.
Inspector James Walker, of Nottinghamshire Police, said
"It is against the law to ride privately owned electric scooters on public roads and locally.
"The force has undertaken an operation targeting the illegal and antisocial use of vehicles in the Clifton area.
"Operation Scribbler is part of that activity and has seen officers proactively targeting illegal off-road bike or illegal motor vehicles that cause antisocial behaviour or are being driven in a way that is dangerous.
"Where appropriate, officers will seize, and have seized, vehicles that have been driven or ridden illegally or consistently in an antisocial manner.
"Using e-scooters on the roads is legal if there are hired from Nottingham City Council as part of a national trial and ridden in the defined area.
"However, it is really important to remember that other forms of e-scooters still remain illegal to use on roads.
"It is also important to understand that in order to use a rental scooter, the rider must be aged 16 or over and hold at least a provisional driving licence."