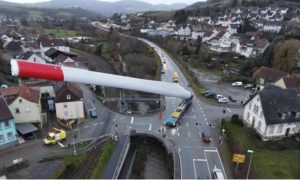 Picture: P. Adams Schwertentransporte
A specialist team of road hauliers have moved a 200 ft long wind-turbine blade on the back of a lorry.
The 25-tonne blade was gently eased along narrow country roads to its deliver spot in Denmark.
Overhead powerlines had to be dismantled.
The P. Adams Schwertentransporte company in Luxembourg  posted pictures of the feat online – prompting many to think the amazing shots had been photoshopped.
The blade must be moved in one part.
And it cannot travel horizontally because of its length and too many twists and turns en route.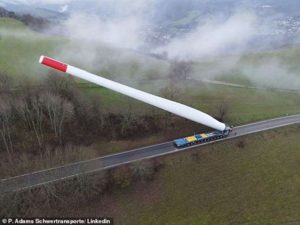 Picture: P. Adams Schwertentransporte