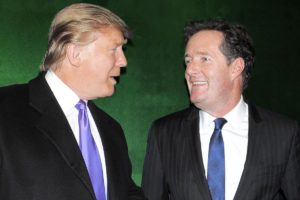 Piers Morgan has ended his friendship with former American President Donald Trump.
The Good Morning Britain presenter branded the outgoing Trump "dangerous, deluded and despicable".
And he called for him to be removed from office following the storming of the Capitol building in Washington.
Only hours earlier Trump – who can't accept he lost the presidential election – encouraged and incited supporters to march on Capitol Hill.
Four people died.
Writing for MailOnline Morgan explained:
"In the past year, he has morphed into a monster that I no longer recognise as someone I considered to be a friend and thought I knew.
"I never imagined he would be capable of becoming what he's now become – the deranged figurehead of a bunch of hard-right conspiracy-theory-fuelled fanatics intent on destroying American democracy.
"I can't remain friends with someone who says he 'loves' a bunch of violent Nazi sympathisers and white supremacists who've just launched a deadly attack on the epicentre of US democracy itself and thinks they're special people."
Morgan and Trump had been friends for 15 years.
They appeared together on the US version of The Apprentice".
The relationship cooled a year ago after Morgan criticised Trump and his handling of the Covid-19 pandemic.
Morgan later said they'd agreed to disagree, adding:
"I still consider him to be a friend, I've known him a long time."
Morgan now wants Trump removed from office and impeached – barring him for running for President ever again.
He wrote:
"Such a person should not be President of the United States for a second longer."