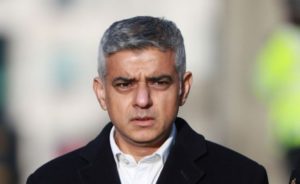 The Mayor of London Sadiq Khan has declared a "major incident" in the city as Covid-19 cases rampage unabated.
City Hall said the rapidly growing infections rate was "putting immense pressure on an already stretched NHS".
The number of sufferers on mechanical ventilators is up by 42% – from 640 to 908 – in the week up to January 6th.
And currently 7,034 people are in hospital being treated for the virus.
That is 35% higher than the peak of the crisis last April.
The ever-increasing numbers have put a strain on other emergency services.
The London Ambulance Service is now handling up to 8,000 emergency calls a day – compared to its usual 5,500.
Sir Simon Stevens, CEO of NHS England, said more than 800 patients a day are being admitted to London hospitals.
He added: "That's the equivalent of a new St Thomas' hospital, full of COVID patients every day."