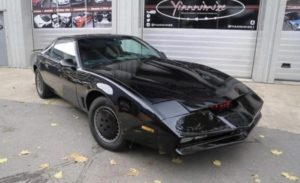 David Hasselhoff is selling his own Knight Rider car – and he'll deliver the vehicle in person.
The custom-built 1982 Pontiac Firebird Trans AM has already attracted a bid of £275,000.
There's another two weeks to before the auction ends in California.
"The Hoff" and his talking car K.I.T.T. – Knight Industries Two Thousand – were the essential ingredients in the classic crime caper show.
The car comes with all its flashing lights and alarms – but doesn't include its array of weapons.
Some of the proceeds from the sale will go to charity.