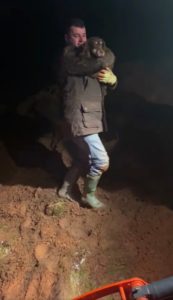 Duncan and Dizzy
Dog owner Duncan Flowers used a JCB digger to rescue his pet after she disappeared down a rabbit hole.
Cocker Spaniel Dizzy spent 30 hours 20 feet underground before being saved.
Duncan, 54, lost Dizzy at a nature reserve.
He searched for hours, helped by other dog walkers.
Finally, he guessed she was down a rabbit hole.
The self-employed roofer gathered 24 mates to return to the site later.
They brought with them a small digger and a plumber's drainage camera.
The team dug throughout the day and into the evening.
They used torches and mobile phones to light the scene.
Finally, Dizzy appeared – dazed and bewildered.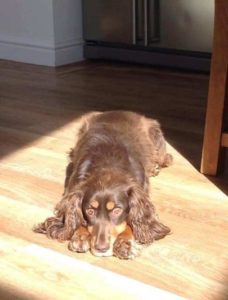 Dizzy safely back home
Duncan, from of Stourport-on-Severn, Worcestershire, said:
"Twenty-five of us dug for over three hours with the help of a JCB and then finally Dizzy turned up.
"I'm delighted to have her back. I thought she was lost forever.
"For her to suddenly pop out was a miracle — the best thing in the world.
"Everyone burst out crying, 25 burly blokes crying their eyes out.
"The whole family has had such a boost from it, it's unbelievable."