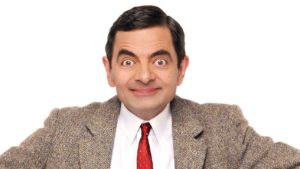 Rowan Atkinson has dropped acting the fool as comic character Mr Bean.
He said he doesn't enjoy playing the accident-prone buffoon.
There is little – if any – script but the part is physically demanding.
Atkinson, 66, told the Radio Times:
"It's easier for me to perform the character vocally than visually.
"I don't much enjoy playing him.
"The weight of responsibility is not pleasant.
"I find it stressful and exhausting, and I look forward to the end of it."
Mr Bean is a clown-like person who finds himself in awkward physical circumstances.
The character first appeared in 1990 in the ITV sit-com written by Atkinson and Richard Curtis.
Mr Bean has become a worldwide phenomenon.
He has starred in two feature length films and appeared in the 2012 London Olympics opening ceremony.
An animated children's series was launched in 2002.
Atkinson says he will continue to voice the Mr Bean character.