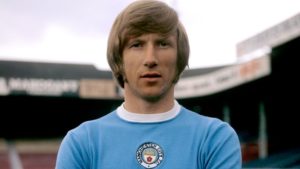 Footballer Colin Bell – one of England's most gifted players – has died.
He was aged 74.
Bell played for Manchester City for 13 years – 1966 to 1979.
He is regarded as one of the greatest players to have worn the City shirt.
He scored 152 goals in 492 appearnces.
A stand at the club's Maine Road ground is named after him.
Chairman Khaldoon Al Mubarak said:
"Colin Bell will always be remembered as one of Manchester City's greatest players.
"The very sad news today of his passing will affect everybody connected to our club."
As a mark of respect, City players will wear a 60s style shirt with Bell's number 8 on the back when they play local rivals Manchester United tonight (Wednesday).
The former England international – 48 caps – died after a short non-Covid related illness.
At City he formed a key playing partnership with Francis Lee and Mike Summerbee.
Both Manchester City and Manchester United were in their pomp at the time – a showcase around the world for English football,
A Manchester City statement said:
"It is with the deepest sadness and heaviest of hearts we announce the passing of Manchester City legend Colin Bell.
"Colin passed away peacefully this afternoon after a short, non-Covid related illness, aged 74.
"He leaves behind wife Marie, children Jon and Dawn and grandchildren, Luke, Mark, Isla and Jack."
Bell won the First Division – now the Premier league – in 1967-68.
The following year he held the FA Cup after City beat Leicester City 1-0 at Wembley.
In 1970 he won the League Cup and European Cup Winners' Cup.
Bell once said: "I was put on this earth to be a footballer.
"I just thought, at the back of my mind, even though I was going through school, I would become a professional footballer."
He was awarded an MBE in 2004 for services to the community.