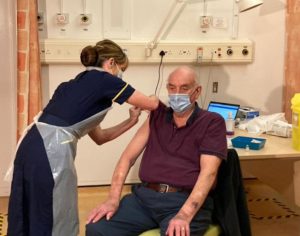 An 82-year-old former maintenance manager is the first person in the world to have the Oxford University and AstraZeneca Covid-19 vaccination.
Dialysis patient Brian Pinker was inoculated at 07.30 at Oxford University Hospitals NHS Foundation Trust's Churchill Hospital.
Nurse Sam Foster administered the injection.
Mr Pinker said:
"I am so pleased to be getting the COVID-19 vaccine today and really proud that it is one that was invented in Oxford.
"The nurses, doctors and staff today have all been brilliant and I can now really look forward to celebrating my 48th wedding anniversary with my wife Shirley later this year."