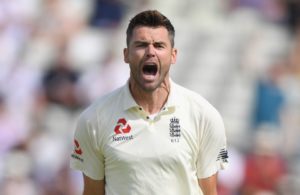 Fast bowler Jimmy Anderson missed out on a knighthood in the New Year Honours because he might be "sledged" during the next Ashes tour of Australia.
It was feared the Aussies would throw a torrent of abuse at England's record wicket-taker, it is claimed.
Anderson is the first fast bowler in history to take more than 600 wickets.
The Times reports that cricket officials thought it "unwise" to honour the 38-year-old player while still a key part of the England team.
A source said:
"I don't think we'd send out Jimmy Anderson to face the Australians with a knighthood."
However, it's reported an Anderson knighthood is merely on hold.
England's record run-maker and captain Alastair Cook was awarded the honour in 2019 after retiring.
Sledging is when a player intimidates another with rude remarks about their inabaility to play.