"Knock, Knock" – it's the police, as raid catches illegal dominoes' players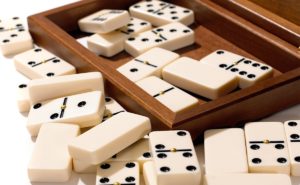 Twelve people were caught playing dominoes in the back of an East London restaurant.
Metropolitan Police officers were alerted to the game in Whitechapel Road – which is under Tier 4 lockdown rules.
When they "knocked" the owner tried to stall the officers as the players tried to escape.
He claimed the men were all workers.
In police bodycam footage, the owner tells officers:
"They've got masks on and are playing dominoes.
"That's the only reason."
A female officer warns:
"You know you're not allowed.
"You are putting your own business at risk for them to play dominoes."
The 12 men handed fixed penalty notices for breaching Covid-19 regulations.
Chief Inspector Pete Shaw said:
"The rules under Tier 4 are in place to keep all of us safe, and they do not exempt people from gathering to play games together in basements.
"The fact that these people hid from officers clearly shows they knew they were breaching the rules and have now been fined for their actions."
Tower Hamlets Local Authority have been alerted about the restaurant owner's action on his premises.
https://news.met.police.uk/videos/whitechapel-road-110695