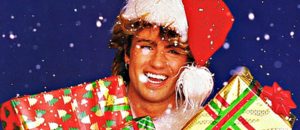 "Last Christmas" by Wham! has topped the charts 36 years after being released.
The song has been streamed more than nine million times in the last week – knocking LadBaby's comic song "Don't Stop Me Eating" off the top spot.
George Michael's family took to Twitter to express their delight.
They posted: "We're proud to say that Last Christmas by Wham! is officially number 1 in the UK @officialcharts this week for the first time!
"It's been an incredible 36 years since the track was first released in 1984 and we want to say a huge thank you to each and every one of you."
The romantic video of the song has been seen nearly 700,000,000 times.
Wham! star Andrew Ridgely said on Instagram:
"I am delighted, somewhat amazed & profoundly pleased that WHAM!'s iconic Christmas classic Last Christmas has finally achieved the accolade of becoming a No 1.
"It's a fitting tribute 2 George's song writing genius and 1 of which he would've been immensely proud & utterly thrilled."
The song – and its captivating video – made number two in the charts when first released.
It was held off the top by Band Aid's "Do They Know It's Christmas?".