Police seize more than £1million worth of cannabis plants in dawn raid. Five arrested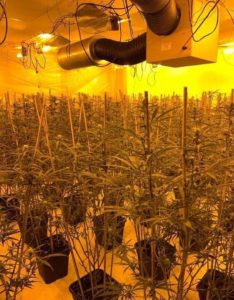 More than £1 million worth of cannabis plants have been seized in a police raid.
Hundreds of specimens were found in a dawn swoop on a 32,000 sq. ft warehouse in Charlton, South East London.
Five people were arrested.
The Metropolitan Police called in a force copter to survey the site from the skies.
They'd received a tip-off about the drugs factory after asking people to keep an eye open for tell-tale signs of drug manufacturing.
They include a pungent smell, covered windows, condensation, and bright lights 24-hours a day.
Met Police Acting Inspector Matt Boniface said:
"This was a significant drug production site with hundreds of plants producing a controlled drug, intended for sale on London's streets, to line the pockets of criminals.
"These sites are also a fire hazard, so it is important they are identified and shut down at the earliest opportunity.
"Drugs are often the root cause of the violence we see in the capital.
"Seizures like this play a huge part in our ongoing efforts to reduce violent crime and make communities safer.
"We would urge anyone who suspects that a cannabis factory is being run in their neighbourhood to call police right away."
Five men were arrested at the scene on suspicion of cultivation of cannabis and remain in custody.