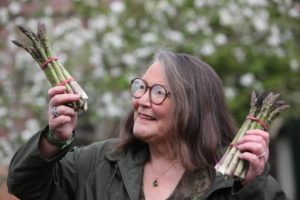 A psychic who predicts the future by throwing asparagus across a room has made her forecasts for 2021.
Jemima Packington – known as "Mystic Veg" – tosses a bunch of the vegetable into air.
She then reads the future on how they land.
After her latest analysis  65-year-old Jemima reckons the Covid-19 pandemic will have passed by mid-summer – probably June.
She also says there will be two Royal divorces.
Foreign travel will become an"occasional option rather than the annual norm".
And the weather will become more extreme – even seeing tropical storms.
Jemima, from Evesham in Worcestershire, also predicts Gus will be a popular boy's name in 2021.
She said: "Although the impact of Covid-19 will still be felt around the world, the vaccines will bring a return to the new normal by June 2021 although not a return to pre-pandemic days."
She foresees Prince Harry returning to the UK on his own in March.
And a run of ill-health in the Royal Family.
She adds:
"The Queen "will make an important announcement in June to coincide with her official birthday as Sovereign – perhaps hinting that she may hand power to Charles."
The asparagus also foretells there will be no second Scottish referendum.