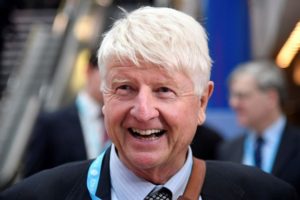 The father of Prime Minister Boris Johnson has applied for a French passport.
Stanley Johnson said he wants to maintain his ties with the EU after Britain leaves at midnight tonight (December 31st).
Mr Johnson Snr, a former MPE voted Remain in Britain's 2016 referendum.
He said:
"If I understand it correctly, I am French.
"My mother was born in France, her mother was totally French as was her grandfather.
"So, for me it is about reclaiming what I already have.
"And that makes me very happy."
The 80-year-old fluent French speaker added:
"I will always be a European, that's for sure.
"One cannot tell the British people: you are not Europeans.
"Having a tie with the European Union is important."
His son Boris promised to "get Brexit done" when he won the General Election in 2019.
However, as the Brexit Bill passed through Parliament this week he said:
"This is not the end of Britain as a European country.
"We are in many ways the quintessential European civilisation… and we will continue to be that."