Ghislaine Maxwell denied £21 million bail as she still poses a "flight risk"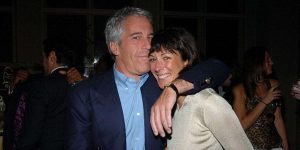 Jeffrey Epstein with Ghislaine Maxwell
British socialite Ghislaine Maxwell has been denied bail for the second time, despite posting £21 million.
An American judge ruled Ms Maxwell remained a "flight risk".
The decision means the 59-year-old will stay in a New York jail until her trial in July.
She faces six charges relating to allegations she helped convicted paedophile Jeffrey Epstein procure teenage girls for sex.
Prince Andrew is caught up in the legal proceeding after one girl claimed she was forced to sleep with him during a visit to London.
The $28.5 million bail was one of the largest seen in a US court.
Her lawyers said Ms Maxwell would be confined to home and wear an electronic tag.
There would also be a guard on duty.
Ms Maxwell's husband Scott Borgerson offered to post $22 million.
And her brothers Kevin and Ian Maxwell agreed to pay $5 million in guarantees.
However, prosecutors argued the accused's "considerable wealth demonstrated she could absolutely afford to flee".
Also, she had previously claimed she was divorcing her husband.
District Judge Alison Nathan said:
"No conditions of release can reasonably assure the defendant's appearance at future proceedings."
Ms Maxwell has denied the charges and has pleaded not guilty to helping Epstein.