British backpackers risk deportation from Australia after breaking lockdown rules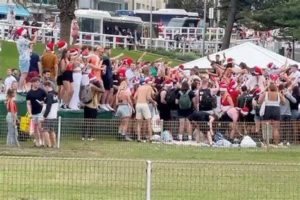 British backpackers risk deportation after partying on a Sydney beach and flouting lockdown rules.
Hundreds gathered to celebrate the festive period on Bronte Beach.
Most did not wear masks and there was no attention to social distancing.
The event has shocked locals – some condemned the actions as "absolutely appalling".
Australian officials now say they could deport offenders.
The area had been Covid free for some weeks but saw a re-emergence just before Christmas.
Australia's Immigration Minister Alex Hawke said he had been "shocked" by the scenes.
He said: "If somebody is threatening public safety or health, their visa can be cancelled and revoked."
Peter Hannam, a local journalist, said:
"You could hear lots of clearly English accents, and several people were wearing the white English football jerseys.
"We had to move through them on our path and the crowd was sort of pulsating… and well we thought we don't really want to hang around here because it doesn't look very safe."