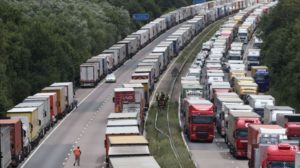 Supermarkets have airlifted fresh food to thousands of lorry drivers stranded after France closed its borders to the UK.
Despite the ban being lifted – and a handful of drivers being able to cross the Channel – many more are stuck in Kent for Christmas.
More than 2,300 Covid 19 tests were carried out on drivers before they could leave.
Only three came back as positive.
To ease the backlog ferries will be running on Christmas Day and Boxing Day.
To help those unable to escape a Lufthansa Boeing 777 cargo plane landed at Doncaster-Sheffield airport.
On board was 80 tonnes of fresh fruit and vegetables.
It had been destined for supermarkets Tesco, the Co-op, Sainsbury's and Aldi.
A Lufthansa spokesman said they were "checking if a regular flight might be possible".
A spokesman for the Yorkshire Airport said that they had received "a large volume of enquiries for flights as a result of border closures" and were taking additional flights "where possible"
In Dover extra portable loos, food and drinking water was provided by the council, charities, and other groups.
More than 6,000 HGVs are being held in Kent with some facing a fourth night in their cabs since the border was temporarily closed on Sunday night.
Transport Minister Mr Shapps said:
"As the EU Transport Commissioner has tweeted, testing hauliers is not recommended.
"Spending days in a lorry on your own puts you in an extremely low risk category."
Richard Burnett, from the Road Haulage Association said France was treating drivers like "pawns in a larger game".
He added:
"It just feels like it's a lever the French have pulled specifically around the Brexit negotiations."
The Army has been drafted in to administer tests for drivers.
Mr Shapps said:
"I have sent special instructions to the Army to take control of testing and HGV management operations in the county.
"Our aim is to get foreign hauliers home with their families as quickly as we can."