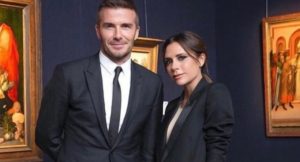 David and Posh Beckham have upset neighbours in their Cotswold village over plans to dig a bigger lake.
Workmen have already started digging a 2,976 square metre kidney shaped water feature.
Now the Beckhams want to make it bigger – adding more than 1,000 extra square metres.
And they want to create an artificial island at the £6 million home.
Property owners nearby fear the lake will flood during heavy rain – affecting their homes.
Neighbour Sue Jones wrote in a letter to the district council:
"I must object in the strongest terms to this new proposal.
"I feel that his plan to enlarge the lake could increase the chances of flooding in the area considerably."
Despite previous protests from locals the council agreed the original plans.
Ms Jones added:
"I was an objector to the original plan and my concerns were ignored.
"The lake looks just too large for the area it sits in.
"It is out of keeping with the area and what is planned next?
"Motorboats zooming up and down and shattering the peace?"
Other residents have called the lake "ugly", "monstrous" and "out of keeping" with its surroundings.
The Beckhams insist the larger lake will create a classic English meadow scene.
The lake would be surrounded by dozens of different types of grass, wildflowers, shrubs, bushes and trees.
There will be a hibernaculum – an underground chamber for hedgehogs, reptiles and amphibians.
And the Beckhams must plant hedgerows and trees to help native birds.
There's a special lighting system for bats.
The planning statement adds:
"The mix will flower all summer long, giving bees, hoverflies and butterflies a feast of nectar and pollen."
West Oxfordshire District Council will make its decision on the lake extension lake in the New Year.