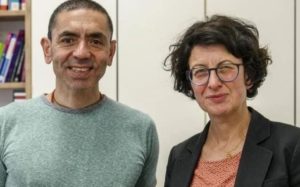 Picture: Instagram. Ugur Sahin and his wife Dr Ozlem Tureci
Scientists are confident the Pfizer/BioTech Covid-19 vaccine will be effective against the new virus variant.
BioTech chief Ugur Sahin said he was assured the serum can tackle the mutation.
But he said more tests were needed before he could be 100% sure.
The jab has been approved in the UK and is soon to be rolled out in America.
Mr Sahin's confidence lies in the fact the new form of Covid-19 shares 99% of its makeup with the previous form.
However, more research is being done.
He said: "The likelihood that our vaccine works … is relatively high."
"But we will know it [is effective] only if the experiment is done and we will need about two weeks from now to get the data."
Mr Sahin said if adjustments were needed it would take six weeks to make them.
Regulatory approval might also be needed.
The pharmaceutical company BioTech was founded by Mr Sahin and his wife Dr Ozlem Tureci in 2008.
The couple teamed up with Pfizer to develop the vaccine.