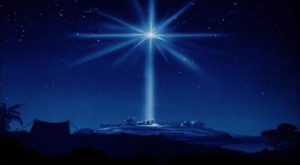 An astronomical phenomenon that last happened 800 years ago could be behind the Star of Bethlehem biblical story.
On December 21st – the Winter Solstice – the planets Saturn and Jupiter align in the night sky.
Viewed from Earth it creates what looks like a giant star.
However, in science, there is no star in the galaxy which matches the Star of Bethlehem.
But experts believe the Great Conjunction of Saturn and Jupiter could account for the bright light that  the Bible says guided the Three Wise Men to the stable in Bethlehem.
Astronomical records from the time record several conjunctions between 6BC and 5BC.
One was between Jupiter and Mars and another Jupiter and Saturn.
Earth Sky said:
"There is some uncertainty about the use of the word for star in the Greek manuscript.
"Some contend that the word could have meant or implied an object other than a physical star.
"There's even some possibility that Jupiter was involved in the original 'Christmas star' story.
"Some believe the Christmas star was really a conjunction – or close meeting – of Jupiter with two other planets, Saturn and Mars.
"Planets were 'wandering stars' to the ancients, and to many they bore great astrological or mystical significance."
The Great Conjunction can be seen – clear skies allowing – just after sunset.