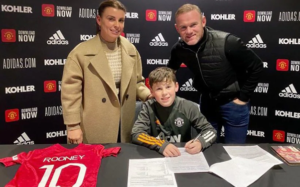 Picture: Wayne Rooney
Like father like son – Wayne Rooney's eldest boy Kai has signed for Manchester United.
The 11-year-old has signed a Premier League academy registration to be part of United's junior team.
His proud parents Wayne and Coleen looked on as the youngster made his mark.
Wayne posted the picture – adding:
"Proud day. Kai signing for Manchester United.
"Keep up the hard work son."
And mum added:
"Special night… congratulations Kai.
"I love you and I am so proud of you.
"Keep trying your best"
Kai is also said to be a talented tennis player after taking up the sport during his time in America with his parents.
Rooney senior hits 253 goals for United during his 13 years at Old Trafford.