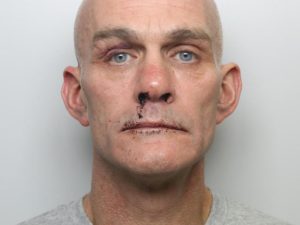 A sweet factory worker has been jailed for 30 years after trying to kill six workmates following a Christmas party row.
Andrew Wigglesworth, 50, had been punched in the mouth during the fracas outside a pub.
He was heard to say ""I'm going to f****ing kill them, I'm going to run them over".
A court heard how Wigglesworth went to his red Audi A4 convertible car and drove it at the group.
He mounted the pavement and "mowed them down".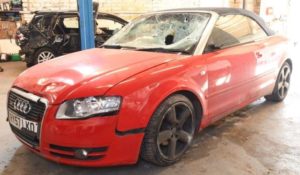 Picture: West Yorkshire Police
West Yorkshire police described his actions as "absolutely horrendous" and an "outrageous and brutal act" following the court's judgement.
Wrigglesworth, of Birstall in West Yorkshire, was found guilty at Leeds Crown Court to six counts of attempted murder.
The court heard how he and his colleagues were at a Christmas party last December.
A fight broke out and Wrigglesworth was punched.
Witnesses heard him say "I'm going to f****ing kill them, I'm going to run them over".
He went to his car and drove into the group before leaving the scene at speed.
He was arrested at his home.
Detective Inspector Andrew Cass:
"This was an absolutely horrendous offence and we welcome the strong sentence handed down to Wrigglesworth today.
"It is barely conceivable that someone would attempt to carry out such an outrageous and brutal act, especially against their own colleagues.
"His actions resulted in six men being literally mown down, with one man receiving injuries which will stay with him for the rest of his life.
"A jury of Wrigglesworth's peers determined he had attempted to murder all six of his victims on that Christmas evening, and there is no doubt in our minds that such an outcome must have been his intent in acting in the way he did."
DI Cass said Wrigglesworth has "never shown any remorse for his actions on that evening".