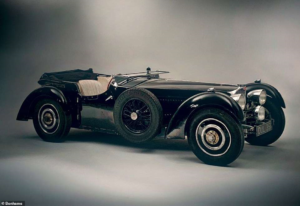 A Bugatti car not seen for 50 years is expected to fetch more than £7 million at auction.
The 1937 Type 57S only came to light after the death of its owner.
The car is said to be one of the world's most desired vehicles.
Only 42 were made.
It has a 3.3 litre engine and a top speed of 115 mph – making it the fastest road car of its day.
The sale will be held at Bonhams in London next February.
The car has lain in a workshop in North Staffordshire since 1969.
Its owner was Bill Turnbull, an engineer and avid Bugatti fan.
His recent death and a review of his estate once again brought attention to the Bugatti.
The car has been kept in its original condition and mechanically maintained to Mr Turnbull's exacting standards.
He stripped the car down and painfully restored it.
The work was almost completed at the time of his death.
The Bugatti 57S was first bought by shipping magnate Robert Ropner.
It was called affectionally called "Dulcie" after its registration number DUL 351.
Sholto Gilbertson, the Bonhams director, said:
"This really is an extraordinary example of one of the most valuable and desirable pre-war motor cars.
"Other 57S Bugattis are in museums or known collections, and to offer the car to the open market for the first time since 1969 is going to be tremendous.
"This could well be the last 'hidden' pre-war Bugatti of note.