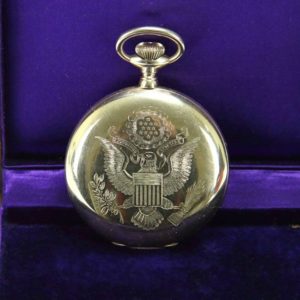 Picture: Metropolitan Police
A pocket watch given by former American President Woodrow Wilson has been stolen from a London antiques dealer.
The 14-carat watch – said to be worth £20,000 – was taken in a distraction burglary.
A man said he wanted to buy a vase from the shop in Islington, North London.
After looking at the item he said he didn't want it.
When the shop assistant turned to put the vase back on display the man opened a cabinet and took the watch.
Pc Joshua Brown, from the Metropolitan Police said:
"The owners of this watch are very distressed.
"The item had been in their family for a long time and I would urge the person who stole it to return it as soon as possible."
The police have issued pictures of the distinctive watch and cctv footage of the man thought to have taken it.
Woodrow Wilson was the 28th American President serving from 1913 to 1921.