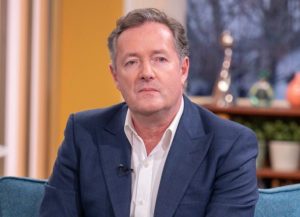 Piers Morgan – known for his rants against people not wearing masks – has been caught out…not wearing a mask.
The Good Morning Britain presenter held up his hands after being snapped maskless in the back of a London cab.
He admitted: "For a few seconds, I was a Covidiot".
Morgan was with his wife Celia – who had the common sense to wear her mask – when he was photographed.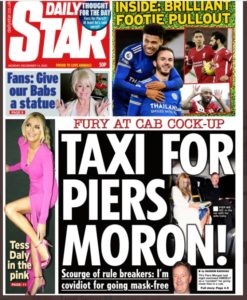 Quick to dispel any suggestions of hypocrisy Morgan tweeted:
"I did breach Covid rules for a few seconds by forgetting to put my mask on before I got in the cab.
"Fortunately, I remembered as we pulled away & put it on.
"Masks help save lives, so it's very important we all remember to wear them when we should."
In another tweet he said:
"I haven't made an excuse, I just explained what happened. I'm guilty as charged.
"For a few seconds, I was a Covidiot & I deserve the full wrath of Twitter hell to now descend on me."
Morgan has been vociferous in condemning others for not wearing masks.
He's the second broadcaster to be caught out not following the advice he gives on-air.
Last week Sky News Kay Burley was suspended for six months after breaking a host of lockdown rules to celebrate her 60th birthday bash in London.