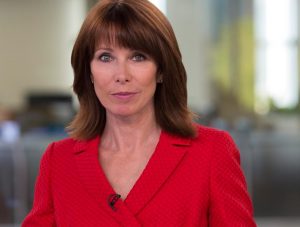 Sky News anchor Kay Burley has flown to South Africa after being suspended for breaking Covid-19 rules.
Ms Kay was snapped in the first-class lounge at Heathrow Airport.
It's believed she's taking a break at the Sabi Sand Game Reserve owned by Virgin boss Sir Richard Branson.
Accommodation at the resort costs £1,462 a night.
The presenter posted on Twitter:
"Lovely people, whatever else you read be safe in the knowledge I was always heading to my beloved Africa on Friday to sit with lions. They kill for food not sport."
To mark her 60th birthday, Ms Burley and a group of friends went to the Century Club in Soho.
The party of ten sat at two tables – a four and a six.
The group then went to a nearby restaurant before just four members returned to Ms Burley's home to continue the party.
In a tweet she said:
"I want to apologise to you all for an error of judgment.
"On Saturday night I was enjoying my 60th birthday at a Covid-compliant restaurant.
"I am embarrassed to say that later in the evening I inadvertently broke the rules.
"I had been waiting for a taxi at 11pm to get home.
"Desperate for the loo, I briefly popped into another restaurant to spend a penny. I can only apologise."
Ms Burley has blamed the error on a "misunderstanding".
But she has not resolved why she and four people – including Sky political editor Beth Rigby – returned to her house.
In a statement Sky said:
"Over the course of the evening, Covid guidelines were breached.
"Sky News expects all team members to fully comply with the COVID restrictions. All those involved regret the incident and have apologised.
"Following our review of what took place on 5th December, we have agreed with Beth Rigby (Political Editor) and Inzamam Rashid (News Correspondent) that they will not be on air for three months, and we have agreed with Kay Burley (Breakfast Show Presenter) that she will not be on air for six months."