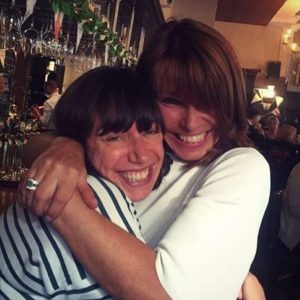 Beth Rigby (L) and Kay Burley
Sky News anchor Kay Burley has been taken off air after breaking lockdown rules while celebrating her 60th birthday.
Three other senior news staff – including Political Editor Beth Rigby – have also absented from work.
Sky news chiefs are said to be "furious and disappointed" about the breach of the Government's coronavirus regulations.
Ms Burley and Ms Rigby have both reported vociferously about people who've broken the guidelines.
In particular, Ms Rigby gave former Number 10 adviser Dominic Cummings a torrid time over his trip to Castle Barnard.
And Ms Burley "tore" into Michael Gove when he defended Cummings' actions.
It's said Ms Burley's future at Sky after 32 years is in "jeopardy".
A source close to Ms Burley admitted she "doesn't have a leg to stand on".
An internal inquiry is investigating the now infamous birthday bash in London.
Sky Head of News John Riley and director of content Cristina Nicoletti Squires have already spoken to the presenter.
There is anger and resentment in the Sky newsroom about the actions of the few breaking the rules.
A source said: "It's impossible to hold the Government and ministers to account over transgressions – and then break the same rules yourself.
"It makes us a laughingstock.
"Like it or not, an interviewer has to have the moral high ground."
Veteran Sky broadcaster Adam Boulton retweeted one viewer's angry comments.
It said: "Look at the state of Sky News.
"The morons spent all summer preaching to us and now look at them!
"After illegally going on a bender, they were going to go to a hospital to put lives at risk!"
Ms Burley is not expected to return to the newsroom until the New Year.
She does, however, say that she was due to go on holiday to Africa from the end of the week.
To mark her 60th birthday, Ms Burley and a group of friends went to the Century Club in Soho.
The party of ten sat at two tables – a four and a six.
The group then went to a nearby restaurant before just four members returned to Ms Burley's home to continue the party.
In a tweet Ms Burley said:
"I want to apologise to you all for an error of judgment.
"On Saturday night I was enjoying my 60th birthday at a Covid-compliant restaurant.
"I am embarrassed to say that later in the evening I inadvertently broke the rules.
"I had been waiting for a taxi at 11pm to get home.
"Desperate for the loo, I briefly popped into another restaurant to spend a penny. I can only apologise."
Ms Burley has blamed the error on a "misunderstanding".
But she has not resolved why she and four people – including Sky political editor Beth Rigby – returned to her house.
A Sky News spokesperson said:
"We place the highest importance on complying with the government guidelines on Covid, and we expect all our people to comply.
"We were disappointed to learn that a small number of Sky News staff may have engaged in activity that breached the guidelines.
"Although this took place at a social event in personal time, we expect all our people to follow the rules that are in place for everyone.
"An internal process is under way to review the conduct of the people involved."