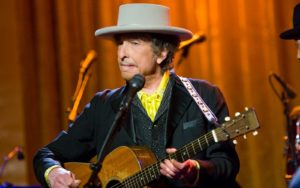 Bob Dylan has sold his entire catalogue of songs – some 600 – in a deal said to be worth £225 million.
Dylan's songs cover the last sixty years.
He defined a generation in the 60s and has continued to endure to this day.
He has sold worldwide more than 125 million records.
In 2016 he was awarded a Nobel prize for literature.
The deal with Universal Music includes "Blowin' in the Wind", "Knockin' on Heaven's Door", and "Like a Rolling Stone".
His songs have also been covered by some of music's greatest artists – including Jimi Hendrix and Eric Clapton through to Adele.
Sir Lucian Grainge, chairman and CEO of Universal Music Group (UMG), said:
"As someone who began his career in music publishing, it is with enormous pride that today we welcome Bob Dylan to the UMG family.
"It's no secret that the art of song writing is the fundamental key to all great music, nor is it a secret that Bob is one of the very greatest practitioners of that art.
"Brilliant and moving, inspiring and beautiful, insightful and provocative, his songs are timeless – whether they were written more than half a century ago or yesterday.
"It is no exaggeration to say that his vast body of work has captured the love and admiration of billions of people all around the world.
"I have no doubt that decades, even centuries from now, the words and music of Bob Dylan will continue to be sung and played- and cherished -everywhere."
Dylan's songs have been recorded more than 6,000 times by other artists.