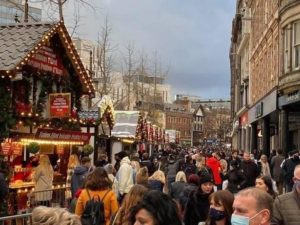 The Christmas Market in Nottingham has been closed after people crowded into the city centre.
Many complained there was little – if any – social distancing.
The market had only been open one day.
Nottingham in a Tier 3 lockdown area.
At one point it had one of the country's highest rates of Covid-19 cases.
The event organisers Mellors Group said it was "sorry it had not worked out".
In a joint statement with Nottingham City Council, the group added:
"Plans were in place to control access to help manage the number of people entering the site at any one time and to continually monitor this throughout Saturday.
"However, numbers were too large to implement these effectively.
"Now that we have seen how busy the city centre was overall, we have taken the decision not to reopen the market again at all this year.
"We know this will be very disappointing for many local people who were looking forward to visiting and for the stall holders, many of them local, for whom this was a vital opportunity to trade in what has been an incredibly difficult year.
"The views being expressed both for and against are very important to us and we have listened carefully.
"The decision to go ahead with the market was not taken lightly nor has the decision to close.
"We're sorry it has not worked out."
Nottinghamshire Police said officers were at the market all day to break up large crowds.