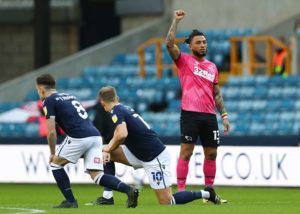 Millwall supporters booed their own players as they took the knee before the start of a game.
Since the new season started teams have "bent a knee" in support of the fight against racism.
The day was the first time fans have been allowed back into stadia across the country.
It is also the first time a crowd has been present when players made their mark of respect.
Millwall were playing Derby County in a Championship League game at the Den, in South East London.
As the players knelt, loud boos and jeers rained from a handful of people.
Millwall went on the lose the game 1-0.
The Football Association said in a statement:
"The FA supports all players and staff that wish to take a stand against discrimination in a respectful manner, which includes taking of the knee, and strongly condemns the behaviours of any spectators that actively voice their opposition to such activities."
A Millwall statement said:
"We are fully supportive of the efforts in ridding the sport, and society, of all forms of discrimination.
"It is our duty to reinforce the positive messaging.
"Taking the knee, for us, is in no way representative of any agreement with political messaging or ideology.
"It is purely about tackling discrimination."
Several clubs have decided to stop "taking the knee" before the game.
Queens Park Rangers made the decision in September.
Director of Football Les Ferdinand said the gesture had "reached a point of 'good PR' but little more than that".
He added: "Taking the knee was very powerful but we feel that impact has now been diluted.
"In the same way 'Clap For Carers' was very emotional for us all, it got to a stage where it had run its natural course and the decision was rightly made to stop it.
"No one is more passionate than me about this topic.
"I have spoken on the matter throughout my footballing life.
"I work for one of the most diverse football clubs in this country. A lot of people are being fooled out there.
"What are our plans with this?
"Will people be happy for players to take the knee for the next 10 years but see no actual progress made?
"Taking the knee will not bring about change in the game – actions will."
Millwall fans have long been caught up in controversy.
The club – known as The Lions – has had problems with violence on the terraces, racism and links to far-right groups.
The casual violence has been the subject of films and television documentaries.