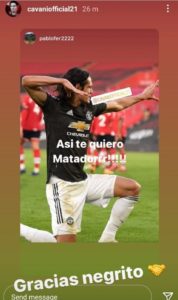 Manchester United striker Edinson Cavani has said sorry for posting a "racist" comment after a thrilling match winning game.
The Uruguayan player scored twice to help United beat Southampton 3-2 – after trailing by two goals.
A delighted Cavani took to Instagram to celebrate with his followers.
One fan posted 'Asi te queiro Matador' in Spanish, which translates "I love you, Matador!"
Cavani replied: "Gracias Negrito!"
The word is said to be Spanish for "little black".
Cavani, 33, said:
"The message I posted after the game on Sunday was intended as an affectionate greeting to a friend, thanking him for his congratulations after the game.
"The last thing I wanted to do was cause offence to anyone.
"I am completely opposed to racism and deleted the message as soon as it was explained that it can be interpreted differently.
"I would like to sincerely apologise for this."
The player is now waiting to hear if the Football Association (FA) will charge him with making a racist comment.
Cavani could be given a three-match ban.