Eric Clapton and Van Morrison record song to help save live music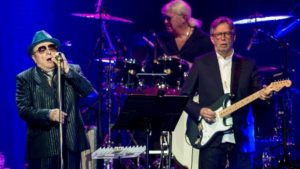 Rock legends Eric Clapton and Van Morrison have team up to record a song to "save live music".
The track "Stand and Deliver" was written by Morrison.
The proceeds will go to his Lockdown Financial Hardship Fund.
It has been helping musicians facing difficulties because of the lockdown rules.
Live music and theatre have virtually ground to a halt throughout Britain.
Many West End shows face permanent closure.
Clapton said:
"There are many of us who support Van and his endeavours to save live music; he is an inspiration.
"We must stand up and be counted because we need to find a way out of this mess.
"The alternative is not worth thinking about.
"Live music might never recover."
The song is available to download on December 4th.
https://twitter.com/i/status/1332274352147079175